Project Description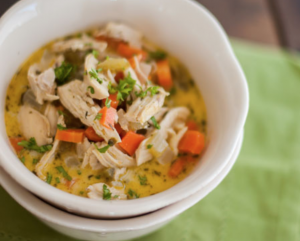 Ingredients:
1 Tbsp olive oil
½  onion, chopped
2 large celery stalks, chopped
2 large carrots, peeled and chopped
½  cup mushrooms, sliced
6 cloves garlic, minced
5 cups chicken stock
1 bay leaves
¼  tsp. turmeric
¼  tsp. crushed red pepper
1 (15 oz) can chickpeas, drained and rinsed
2 cups shredded chicken
2 cups baby kale leaves
Method
In a large pot, heat oil over medium-high heat and sauté onion, celery, and carrots, stirring occasionally about 5 minutes. Add mushrooms and garlic, cooking an additional 3 minutes.
Stir in the chicken stock, bay leaves, turmeric, crushed red pepper,  and chickpeas; bringing to a boil. Mix in shredded chicken, cover and turn down the heat to a simmer for 15 to 20 minutes.
Add kale, cover and simmer an additional 5 minutes. Discard bay leave.
Serves: 5
Nutritional Information
Serving Size: 1 cup
Calories: 257
Fat: 7 g
Carbs: 25g
Fiber: 6 g
Protein: 20 g