Project Description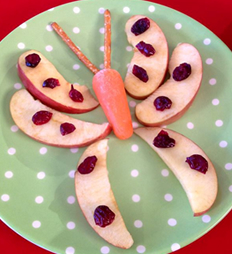 Ingredients: 
1 apple 12-15 raisins or craisins
1 baby carrot 2 pretzel sticks
Directions: 
Cut an apple in slices and remove the core.
Place a baby carrot on a plate and add 6 slices of the apple to resemble the wings of a butterfly.
Place raisins or craisins on apple slices for spots on the wings.
Use pretzel sticks for the antenna.