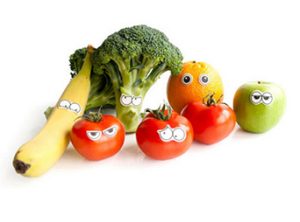 We all know that carrots are good for your eyes, but do you know why? Carrots, like other orange veggies and fruits such as winter squash, sweet potatoes, pumpkin, and cantaloupe are high in Vitamin A and contain powerful antioxidants to protect the tiny cells in our eyes from damage. These cells can become damaged by the sun, pollution and cigarette smoke. Studies have shown that people who eat more fruits and vegetables develop less eye diseases such as cataracts and macular degeneration later in life.
Foods that begin with the letter 'B' and foods containing Vitamin C will also protect your eyes. Include foods like broccoli, bell peppers, and Brussels sprouts, tomatoes, spinach and kale in your diet often to reduce your risk of eye disease. These foods contain the powerful antioxidants lutein and zeaxanthin. Big words that provide big benefit to our precious eyes!
So protect those baby blues (or browns, or hazels) by feeding your body right! Think A, B, C everyday and load up on foods that provide not only great nutrients for your eyes but also taste delicious to your mouth as well!
You can include lots of these great foods all in one dish! This pasta salad is the perfect accompaniment to your next dinner and is great for picnics and parties too!
PASTA SALAD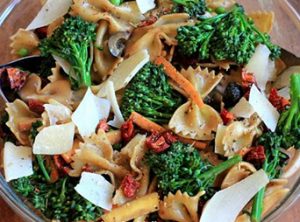 Ingredients:
1# pasta
1 cup shredded carrots
1 cup broccoli florettes
1 cup cherry tomatoes, cut in half
1/2 cup green pepper, diced
1/2 cup low fat mozzarella cheese, shredded
2-3 Tablespoons olive oil
seasonings to taste: salt, pepper, Italian spices, etc
Directions:
• Cook the pasta according to the package directions. Drain and cool.
• Wash and prepare vegetables by cutting into bite sized pieces.
• Add the vegetables, oil and seasonings and mix well.
• Top with shredded mozzarella cheese.
Click here for more recipes and tips to encourage healthy eating for the whole family.